NCPCA Book Group
The NCPCA Book Group is an informal group of RPCVs who love to read international books and eat international food. We read and discuss books about the world, or by international authors.
Meetings are on the second Sunday (usually) of odd-numbered months, beginning at 5:30 pm and finishing up around 8:30pm. All local RPCVs are welcome!  Due to pandemic concerns, we met via Zoom in 2020 and for the first half of 2021.  We are so glad to go back to in-person gatherings starting in July 2021.  Hurray for the return of our glorious potlucks!
Started in 1994, the NCPCA Book Group now has over 100 people on our email list for announcements of upcoming meetings.  We read a mix of fiction and non-fiction, with the only requirement being that the books are focused on developing nations, or connected to international issues. Each fall, everyone is invited to nominate books for the next year, and then everyone gets to vote on the finalists.  We try to achieve a balance between fiction and non-fiction, as well as geographic diversity, and to ensure that the books we choose are readily available in local libraries.
For more information about the Book Group, go to our Google Group page and request to join to our group, so you'll get announcements of all upcoming meetings, the RSVP info, and address. For more information, please contact Peggy Schaeffer or Ruth Heuer.  
Lists of all the books the book group has read (about 150 titles, since 1994) are available.
the list of Books by Title is here
the list of Books by Country (from Afghanistan to Zimbabwe!) is here
And there's now another book group: In early 2020 some members started another, smaller book group, to read books by Peace Corps authors. The Bonus Triangle Book Group meets in even-numbered months. See more details about this group here.
Dates & books for 2021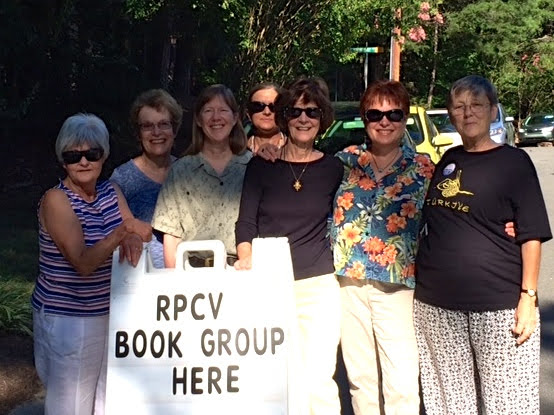 These 6 books were chosen by vote from over 20 titles nominated by members. See below for book descriptions and the schedule for the year. Members of the book group will get announcements with details in advance of each meeting. 
All of these books are available in the public libraries of Wake, Durham, and Chapel Hill.
Or purchase them online from independent booksellers through Abe Books. 
January 10

  

A Tale for the Time Being, by Ruth Ozeki 

In Tokyo, sixteen-year-old Nao has decided there's only one escape from her aching loneliness and her classmates' bullying, but before she ends it all, Nao plans to document the life of her great-grandmother, a Buddhist nun who's lived more than a century. A diary is Nao's only solace—and will touch lives in a ways she can scarcely imagine.
Across the Pacific, we meet Ruth, a novelist living on a remote island who discovers a collection of artifacts washed ashore in a Hello Kitty lunchbox—possibly debris from the devastating 2011 tsunami. As the mystery of its contents unfolds, Ruth is pulled into the past, into Nao's drama and her unknown fate, and forward into her own future. 

Full of Ozeki's signature humour and deeply engaged with the relationship between writer and reader, past and present, fact and fiction, quantum physics, history, and myth, A Tale for the Time Being is a brilliantly inventive, beguiling story of our shared humanity and the search for home.

March 14


 

We Fed an Island: The True Story of Rebuilding Puerto Rico, One Meal at a Time, by José Andrés

Chef José Andrés arrived in Puerto Rico four days after Hurricane Maria ripped through the island. The economy was destroyed and for most people there was no clean water, no food, no power, no gas, and no way to communicate with the outside world. Andrés addressed the humanitarian crisis the only way he knew how: by feeding people, one hot meal at a time. From serving sancocho with his friend José Enrique at Enrique's ravaged restaurant in San Juan to eventually cooking 100,000 meals a day at more than a dozen kitchens across the island, Andrés and his team fed hundreds of thousands of people, including with massive paellas made to serve thousands of people alone.. At the same time, they also confronted a crisis with deep roots, as well as the broken and wasteful system that helps keep some of the biggest charities and NGOs in business.

 

The Bad-Ass Librarians of Timbuktu: And Their Race to Save the World's Most Precious Manuscripts, by Joshua Hammer

In the 1980s, a young adventurer and collector for a government library, Abdel Kader Haidara, journeyed across the Sahara Desert and along the Niger River, tracking down and salvaging tens of thousands of ancient Islamic and secular manuscripts that had fallen into obscurity. The Bad-Ass Librarians of Timbuktu tells the incredible story of how Haidara, a mild-mannered archivist and historian from the legendary city of Timbuktu, later became one of the world's greatest and most brazen smugglers. In 2012, thousands of Al Qaeda militants from northwest Africa seized control of most of Mali, including Timbuktu. They imposed Sharia law, chopped off the hands of accused thieves, stoned to death unmarried couples, and threatened to destroy the great manuscripts. As the militants tightened their control over Timbuktu, Haidara organized a dangerous operation to sneak all 350,000 volumes out of the city to the safety of southern Mali.

July 11

 

What You Have Heard Is True: A Memoir of Witness and Resistance, by Carolyn Forché

Carolyn Forché is twenty-seven when the mysterious stranger appears on her doorstep. The relative of a friend, he is a charming polymath with a mind as seemingly disordered as it is brilliant. She's heard rumors from her friend about who he might be: a lone wolf, a communist, a CIA operative, a sharpshooter, a revolutionary, a small coffee farmer, but according to her, no one seemed to know for certain. He has driven from El Salvador to invite Forché to visit and learn about his country. Captivated for reasons she doesn't fully understand, she accepts and becomes enmeshed in something beyond her comprehension. Together they meet with high-ranking military officers, impoverished farm workers, and clergy desperately trying to assist the poor and keep the peace. These encounters are a part of his plan to educate her, but also to learn for himself just how close the country is to war. As priests and farm-workers are murdered and protest marches attacked, he is determined to save his country, and Forché is swept up in his work and in the lives of his friends. Pursued by death squads and sheltering in safe houses, the two forge a rich friendship, as she attempts to make sense of what she's experiencing and establish a moral foothold amidst profound suffering. This is the powerful story of a poet's experience in a country on the verge of war, and a journey toward social conscience in a perilous time. 

September 12

 

Stay with Me, by Ayọ̀bámi Adébáyọ̀ 

This celebrated, unforgettable first novel, shortlisted for the prestigious Women's Prize for Fiction and set in Nigeria, gives voice to both husband and wife as they tell the story of their marriage--and the forces that threaten to tear it apart. Yejide and Akin have been married since they met and fell in love at university. Though many expected Akin to take several wives, he and Yejide have always agreed: polygamy is not for them. But four years into their marriage--after consulting fertility doctors and healers, trying strange teas and unlikely cures--Yejide is still not pregnant. She assumes she still has time--until her family arrives on her doorstep with a young woman they introduce as Akin's second wife. Furious, shocked, and livid with jealousy, Yejide knows the only way to save her marriage is to get pregnant, which, finally, she does--but at a cost far greater than she could have dared to imagine. An electrifying novel of enormous emotional power, Stay With Me asks how much we can sacrifice for the sake of family.

November 14

 

Threading My Prayer Rug: One Woman's Journey from Pakistani Muslim to American Muslim, by Sabeeha Rehman

Threading My Prayer Rug is a richly textured reflection on what it is to be a Muslim in America today. It is also the luminous story of many journeys: from Pakistan to the United States in an arranged marriage that becomes a love match lasting forty years; from secular Muslim in an Islamic society to devout Muslim in a society ignorant of Islam, and from liberal to conservative to American Muslim; from student to bride and mother; and from an immigrant intending to stay two years to an American citizen, business executive, grandmother, and tireless advocate for interfaith understanding. 

Beginning with a sweetly funny, moving account of her arranged marriage, the author undercuts stereotypes and offers the refreshing view of an American life through Muslim eyes. In chapters leavened with humor, hope, and insight, she recounts an immigrant's daily struggles balancing assimilation with preserving heritage, overcoming religious barriers from within and distortions of Islam from without, and confronting issues of raising her children as Muslims—while they lobby for a Christmas tree!