NCPCA Book Group
The NCPCA Book Group is an informal group of RPCVs who love to read international books and eat international food. We read and discuss books about the world, or by international authors.
Meetings are on the third Sunday (usually) of odd-numbered months, beginning at 5:30 pm and finishing up around 8:30pm. All local RPCVs are welcome!  Due to pandemic concerns, we met via Zoom in 2020, and occasionally in 2021 & 2022.  We are hoping for in-person gatherings in 2023.  Stay tuned for details and plan for our glorious potlucks!
Started in 1994, the NCPCA Book Group now has over 100 people on our email list for announcements of upcoming meetings.  We read a mix of fiction and non-fiction, with the only requirement being that the books are focused on developing nations, or connected to international issues. Each fall, everyone is invited to nominate books for the next year, and then everyone gets to vote on the finalists.  We try to achieve a balance between fiction and non-fiction, as well as geographic diversity, and to ensure that most of the books we choose are readily available in local libraries.
For more information about the Book Group, go to our Google Group page and request to join to our group, so you'll get announcements of all upcoming meetings, the RSVP info, and address. For more information, please contact Peggy Schaeffer or Ruth Heuer.  
Lists of all the books the book group has read (about 160 titles, since 1994) are available.
the list of Books by Title is here
the list of Books by Country (from Afghanistan to Zimbabwe!) is here
And there's now another book group: In early 2020 some members started another, smaller book group, to read books by Peace Corps authors. The Bonus Triangle Book Group meets in even-numbered months. See more details about this group here.
Dates & books for 2023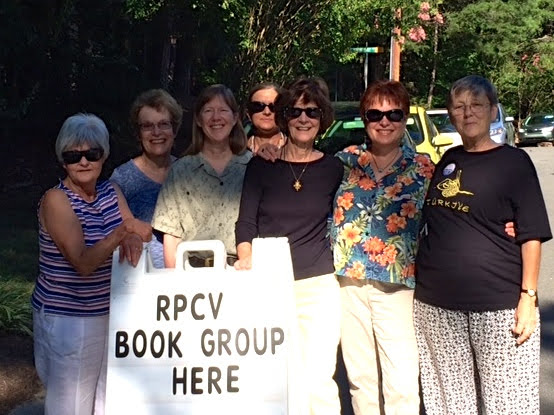 These 6 books were chosen by vote from over a dozen titles nominated by members. See below for book descriptions and the schedule for the year.
Members of the book group will get announcements with details in advance of each meeting. 
Most of these books are available in the public libraries of Wake, Durham, and Chapel Hill.
Or purchase them for less than $10 from independent booksellers through Abe Books. 
January 15 

host: Ruth Heuer

  

Drive Your Plow Over the Bones of the Dead by Olga Tokarczuk

In a remote Polish village, Janina devotes the dark winter days to studying astrology, translating the poetry of William Blake, and taking care of the summer homes of wealthy Warsaw residents. Her reputation as a crank and a recluse is amplified by her not-so-secret preference for the company of animals over humans. Then a neighbor, Big Foot, turns up dead. Soon other bodies are discovered, in increasingly strange circumstances. As suspicions mount, Janina inserts herself into the investigation, certain that she knows whodunit.

A deeply satisfying thriller cum fairy tale, Drive Your Plow over the Bones of the Dead is a provocative exploration of the murky borderland between sanity and madness, justice and tradition, autonomy and fate.

March 19

host: Kay and Sam Leaman, Chapel Hill

 

Once I Was You: A Memoir of Love and Hate in a Torn America, by María Hinojosa

Maria Hinojosa is an award-winning journalist who has collaborated with the most respected networks and is known for bringing humanity to her reporting. In Once I Was You, Maria shares her intimate experience growing up Mexican American on the south side of Chicago and documenting the existential wasteland of immigration detention camps for news outlets that often challenged her work. In these pages, she offers a personal and eye-opening account of how the rhetoric around immigration has not only long informed American attitudes toward outsiders, but also enabled willful negligence and profiteering at the expense of our country's most vulnerable populations—charging us with the broken system we have today.

hosts: Joan & Bill Meade, Chatham County

 

Land of Big Numbers: Stories, by Te-Ping Chen

Gripping and compassionate, Land of Big Numbers depicts the diverse and legion Chinese people, their history, their government, and how all of that has tumbled—messily, violently, but still beautifully—into the present. Cutting between clear-eyed realism and tongue-in-cheek magical realism, Chen's stories coalesce into a portrait of a people striving for openings where mobility is limited. Twins take radically different paths: one becomes a professional gamer, the other a political activist. A woman moves to the city to work at a government call center and is followed by her violent ex-boyfriend.

With acute social insight, Te-Ping Chen layers years of experience reporting on the ground in China with incantatory prose in this taut, surprising debut, proving herself both a remarkable cultural critic and an astonishingly accomplished new literary voice.

July 16

host: ????

 

Refugee: A Memoir, by Emmanuel Mbolela

Persecuted for his political activism, Emmanuel Mbolela left the Democratic Republic of the Congo in 2002. His search for a new home would take six years. In that time, Mbolela endured corrupt customs officials, duplicitous smugglers, Saharan ambushes, and untenable living conditions. Yet his account relates not only the storms of his long journey but also the periods of calm. Faced with privation, he finds comfort in a migrants' hideout overseen by community leaders at once paternal and mercenary. When he finally reaches Morocco, he finds himself stranded for almost four years. 

As Mbolela testifies, the horrors of migration fall hardest upon female migrants, but those same women also embody the fiercest resistance to the regime of violence that would deny them their humanity. While still countryless, Mbolela becomes an advocate for those around him, founding and heading up the Association of Congolese Refugees and Asylum Seekers in Morocco to fight for migrant rights.

September 17

host: Debbie Durham, Durham

 

Disappearing Earth, by Julia Phillips

One August afternoon, on the shoreline of the north-eastern edge of Russia, two sisters are abducted. In the ensuing weeks, then months, the police investigation turns up nothing. Echoes of the disappearance reverberate across a tightly woven community, with the fear and loss felt most deeply among its women. 

Set on the remote Siberian peninsula of Kamchatka,  Disappearing Earth draws us into the world of an astonishing cast of characters, all connected by an unfathomable crime. We are transported to vistas of rugged beauty – densely wooded forests, open expanses of tundra, soaring volcanoes and the glassy seas that border Japan and Alaska – and into a region as complex as it is alluring, where social and ethnic tensions have long simmered, and where outsiders are often the first to be accused.

November 19

host: Jill Gulliksen, Chapel Hill 

 

Nomad: From Islam to America: A Personal Journey Through the Clash of Civilizations, by Ayaan Hirsi Ali

Ayaan Hirsi Ali captured the world's attention with Infidel, her compelling coming-of-age memoir, which spent thirty-one weeks on the New York Times bestseller list. Now, in Nomad, Hirsi Ali tells of coming to America to build a new life, an ocean away from the death threats made to her by European Islamists, the strife she witnessed, and the inner conflict she suffered. It is the story of her physical journey to freedom and, more crucially, her emotional journey to freedom—her transition from a tribal mind-set that restricts women's every thought and action to a life as a free and equal citizen in an open society. Through stories of the challenges she has faced, she shows the difficulty of reconciling the contradictions of Islam with Western values.