NCPCA Book Group
The NCPCA Book Group is an informal group of RPCVs who love to read international books and eat international food. We read and discuss books about the world, or by international authors. Add to that a potluck dinner from the selected country, and you've got a great evening! (Too busy to cook? feel free to bring a purchased item for the potluck.) 
Started in 1994, the NCPCA Book Group now has over 100 people on our email list for announcements of upcoming meetings.  We read a mix of fiction and non-fiction, with the only requirement being that the books are focused on developing nations, or connected to international issues. Each fall, everyone is invited to nominate books for the next year, and then everyone gets to vote on the finalists.  We try to achieve a balance between fiction and non-fiction, as well as geographic diversity, and to ensure that the books we choose are readily available in local libraries. 
Meetings are on the second Sunday (usually) of odd-numbered months, beginning at 5:30pm and finishing up around 8:30pm. All local RPCVs are welcome!  Due to pandemic concerns, we are meeting via Zoom in 2020. We miss our glorious potlucks, but the discussions are just as good as ever!
For more information about the Book Group, go to our Google Group page and request to join to our group, so you'll get announcements of all upcoming meetings. To RSVP for a meeting, or for more information, please contact Peggy Schaeffer or Ruth Heuer.  
Lists of all the books the book group has read (about 150 titles, since 1994) are available.
the list of Books by Title is here
the list of Books by Country (from Afghanistan to Zimbabwe!) is here
In early 2020 some members started another, smaller book group, to read books by Peace Corps authors. The Bonus Triangle Book Group meets in even-numbered months. See more details about this group here.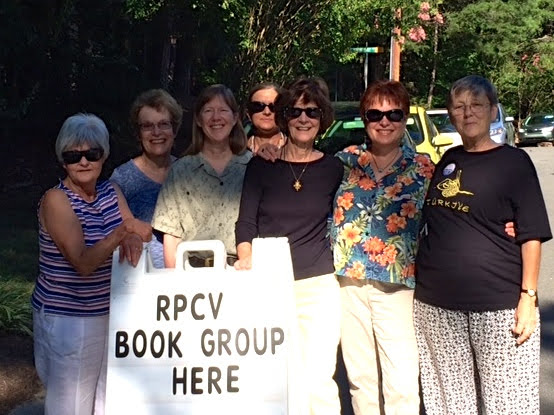 Dates, books and hosts for 2020 
These 6 books were chosen by vote from over 20 titles nominated by members. See below for book descriptions and the schedule for the year. Members of the book group will get announcements with details in advance of each meeting. 
All of these books are available in the public libraries of Wake, Durham, and Chapel Hill. Or purchase them online from independent booksellers through Abe Books. 
The Gift of Rain by Tan Tran Eng
Go, Went, Gone by Jenny Erpenbeck
Music of the Ghosts by Vaddey Ratner
Daring to Drive by Manal al-Sharif
The Pianist from Syria: A Memoir by Aeham Ahmad
January 12

host: Peggy, in Durham

  

Factfulness: Ten Reasons We're Wrong About the World - and Why Things Are Better Than You Think by Hans Rosling

This book by the late academic, statistician, and TED Talk star explains in plain prose how and why the most intelligent among us hold mistaken beliefs about important worldwide issues like poverty, education, population, demographics, health, and the environment. This is no academic treatise; Rosling uses simple charts and graphs to turn years of data into easily understandable evidence that contradicts erroneous mainstream ideas about overpopulation, undereducation of women in developing countries, vaccinations among the poor, the lethality of natural disasters, and climate change. In an accessible, almost folksy prose, Rosling identifies various reasons why so many of us have ended up with so many faulty ideas about our world. These reasons are the crux of the book and cannot be reduced to aphorisms, but they involve issues like negativity, fear, generalization, blame, urgency, and destiny. Each chapter ends with a page of bullet-point summaries and motivational advice for the future. 

March 8

host: Sara, in Durham, and also possibly Ruth in Raleigh

 

The Gift of Rain by Tan Twan Eng

Tan Twan Eng's debut novel casts a powerful spell and has garnered comparisons to celebrated wartime storytellers Somerset Maugham and Graham Greene. Set during the tumult of World War II, on the lush Malayan island of Penang, The Gift of Rain tells a riveting and poignant tale about a young man caught in the tangle of wartime loyalties and deceits. In 1939, sixteen-year-old Philip Hutton-the half-Chinese, half-English youngest child of the head of one of Penang's great trading families-feels alienated from both the Chinese and British communities. He at last discovers a sense of belonging in his unexpected friendship with Hayato Endo, a Japanese diplomat. Philip proudly shows his new friend around his adored island, and in return Endo teaches him about Japanese language and culture and trains him in the art and discipline of aikido. But such knowledge comes at a terrible price. When the Japanese savagely invade Malaya, Philip realizes that his mentor and sensei-to whom he owes absolute loyalty-is a Japanese spy. Young Philip has been an unwitting traitor, and must now work in secret to save as many lives as possible, even as his own family is brought to its knees. 

May 10




 

Go, Went, Gone by Jenny Erpenbeck

Go, Went, Gone is the masterful new novel by the acclaimed German writer Jenny Erpenbeck. The novel tells the tale of Richard, a retired classics professor who lives in Berlin. His wife has died, and he lives a routine existence until one day he spies some African refugees staging a hunger strike in Alexanderplatz. Curiosity turns to compassion and an inner transformation, as he visits their shelter, interviews them, and becomes embroiled in their harrowing fates. Go, Went, Gone is a scathing indictment of Western policy toward the European refugee crisis, but also a touching portrait of a man who finds he has more in common with the Africans than he realizes. Exquisitely translated by Susan Bernofsky, Go, Went, Gone addresses one of the most pivotal issues of our time, facing it head-on in a voice that is both nostalgic and frightening. 

July 12

via Zoom




 

Music of the Ghosts by Vaddey Ratner

An astonishing and powerful new novel from PEN/Hemingway finalist Vaddey Ratner. Leaving the safety of America, Teera returns to Cambodia for the first time since her harrowing escape as a child refugee. She carries a letter from a man who mysteriously signs himself as "the Old Musician" and claims to have known her father in the Khmer Rouge prison where he disappeared twenty-five years ago. In Phnom Penh, Teera finds a society still in turmoil, where perpetrators and survivors of unfathomable violence live side by side, striving to mend their still beloved country. She meets a young doctor who begins to open her heart, immerses herself in long-buried memories and prepares to learn her father's fate. Meanwhile, the Old Musician, who earns his modest keep playing ceremonial music at a temple, awaits Teera's visit with great trepidation. He will have to confess the bonds he shared with her parents, the passion with which they all embraced the Khmer Rouge's illusory promise of a democratic society, and the truth about her father's end.  A love story for things lost and things restored, a lyrical hymn to the power of forgiveness, Music of the Ghosts is an unforgettable journey through the embattled geography of the heart and its hidden chambers where love can be reborn. 

September 13 

via Zoom

 

Daring to Drive: a Saudi Woman's Awakening by Manal al-Sharif

A ferociously intimate memoir by a devout woman from a modest family in Saudi Arabia who became the unexpected leader of a courageous movement to support women's right to drive. Manal al-Sharif grew up in Mecca the second daughter of a taxi driver, born the year fundamentalism took hold. In her adolescence, she was a religious radical, melting her brother's boy band cassettes in the oven because music was haram: forbidden by Islamic law. But what a difference an education can make. By her twenties she was a computer security engineer, one of few women working in a desert compound that resembled suburban America. That's when the Saudi kingdom's contradictions became too much to bear: she was labeled a slut for chatting with male colleagues, her teenage brother chaperoned her on a business trip, and while she kept a car in her garage, she was forbidden from driving down city streets behind the wheel. Daring to Drive is the fiercely intimate memoir of an accidental activist, a powerfully vivid story of a young Muslim woman who stood up to a kingdom of men--and won. Writing on the cusp of history, Manal offers a rare g  limpse into the lives of women in Saudi Arabia today. Her memoir is a remarkable celebration of resilience in the face of tyranny, the extraordinary power of education and female solidarity, and the difficulties, absurdities, and joys of making your voice heard. 

November 8

host: Jane, in Raleigh (or Zoom)

 

The Pianist from Syria: A Memoir by Aeham Ahmad

An astonishing but true account of a pianist's escape from war-torn Syria to Germany offers a deeply personal perspective on the most devastating refugee crisis of this century. Aeham Ahmad was born a second-generation refugee--the son of a blind violinist and carpenter who recognized Aeham's talent and taught him how to play piano and love music from an early age. When his grandparents and father were forced to flee Israel and seek refuge from the Israeli-Palestinian conflict ravaging their home, Aeham's family built a life in Yarmouk, an unofficial camp to more than 160,000 Palestinian refugees in Damascus. They raised a new generation in Syria while waiting for the conflict to be resolved so they could return to their homeland. Instead, another fight overtook their asylum. Their only haven was in music and in each other.  Forced to leave his family behind, Aeham sought out a safe place for them to call home and build a better life, taking solace in the indestructible bond between fathers and sons to keep moving forward. Heart-wrenching yet ultimately full of hope, and told in a raw and poignant voice, The Pianist from Syria is a gripping portrait of one man's search for a peaceful life for his family and of a country being torn apart as the world watches in horror.