NCPCA Book Group
The NCPCA Book Group is an informal group of RPCVs who love to read international books and eat international food. We read and discuss books about the world, or by international authors.
Meetings are on the third Sunday (usually) of odd-numbered months, beginning at 5:30 pm and finishing up around 8:30pm. All local RPCVs are welcome!  See below for details and plan for our glorious potlucks! 
To join the Book Group and attend a meeting, go to our Google Group page and request to join to our group, so you'll get announcements of all upcoming meetings, the RSVP info, and address. For more information, please contact Peggy Schaeffer or Ruth Heuer.  
Started in 1994, the NCPCA Book Group now has over 100 people on our email list for announcements of upcoming meetings.  We read a mix of fiction and non-fiction, with the only requirement being that the books are focused on developing nations, or connected to international issues. Each fall, everyone is invited to nominate books for the next year, and then everyone gets to vote on the finalists.  We try to achieve a balance between fiction and non-fiction, as well as geographic diversity, and to ensure that most of the books we choose are readily available in local libraries.
Lists of all the books the book group has read (about 160 titles, since 1994) are available.
the list of Books by Title is here
the list of Books by Country (from Afghanistan to Zimbabwe!) is here
And there's now another book group: In early 2020 some members started another, smaller book group, to read books by Peace Corps authors. The Bonus Triangle Book Group meets in even-numbered months. See more details about this group here.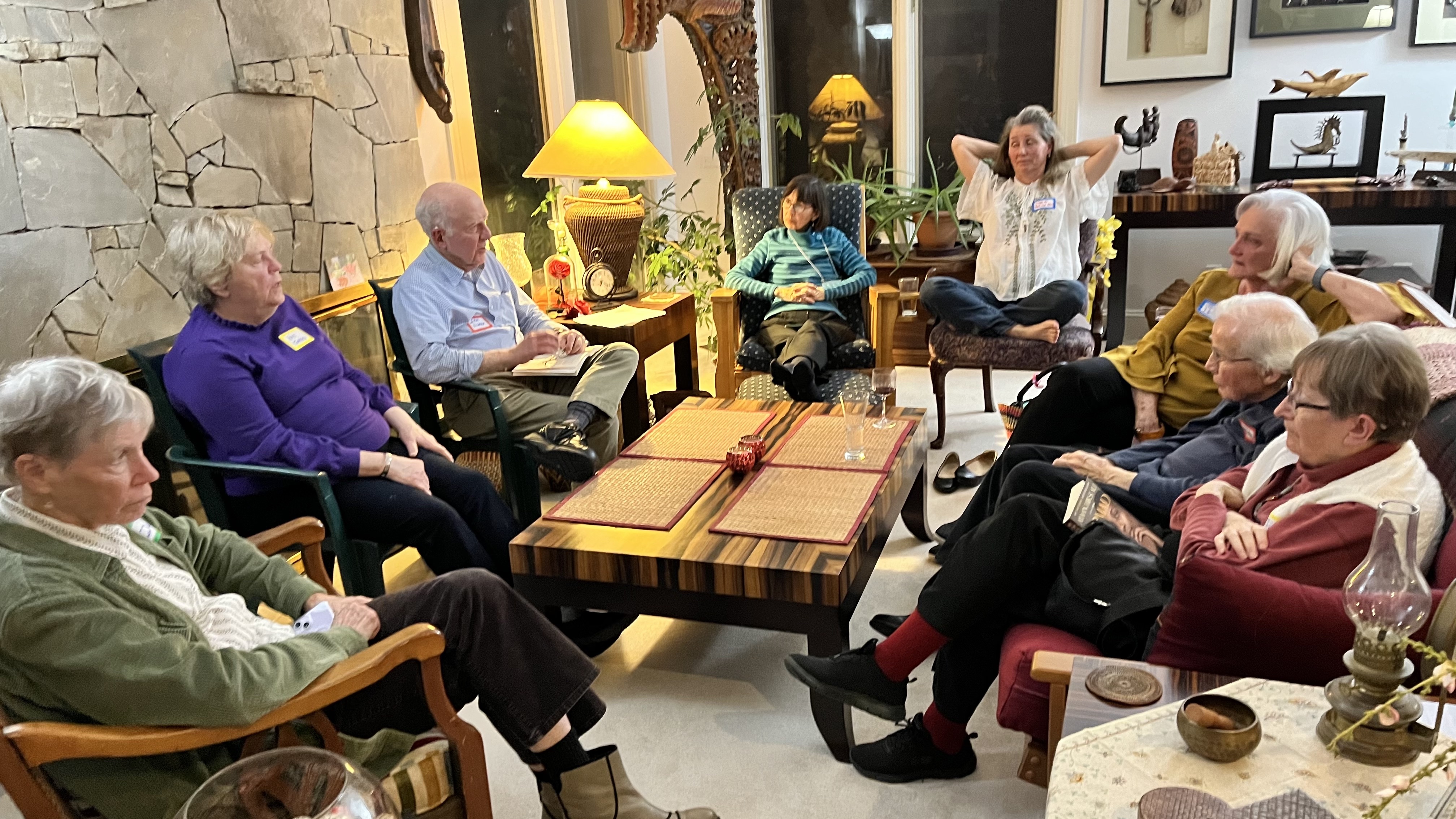 Dates & books for 2024 
These 6 books were chosen by vote from over a dozen titles nominated by members. See below for book descriptions and the schedule for the year.
Members of the book group will get announcements with details in advance of each meeting. 
Most of these books are available in the public libraries of Wake, Durham, and Chapel Hill.
Or purchase them for less than $10 from independent booksellers through Abe Books. 
January 21 

host: Karen in Raleigh

 

Moment of Lift: How Empowering Women Changes the World by Melinda Gates

For the last twenty years, Melinda Gates has been on a mission. Her goal, as co-chair of the Bill & Melinda Gates Foundation, has been to find solutions for people with the most urgent needs, wherever they live. Throughout this journey, one thing has become increasingly clear to her: If you want to lift a society up, invest in women.

In this candid and inspiring book, Gates traces her awakening to the link between women's empowerment and the health of societies. She shows some of the tremendous opportunities that exist right now to "turbo-charge" change. And she provides simple and effective ways each one of us can make a difference.

March 17

hosts: Sam and Kay in Chapel Hill

 

What Storm, What Thunder, by Myriam J.A. Chancy

At the end of a long, sweltering day, as markets and businesses begin to close for the evening, an earthquake of 7.0 magnitude shakes the capital of Haiti, Port-au-Prince.

Award-winning author Myriam J. A. Chancy masterfully charts the inner lives of the characters affected by the disaster. Brilliantly crafted, fiercely imagined, and deeply haunting, What Storm, What Thunder is a singular, stunning record, a reckoning of the heartbreaking trauma of disaster, and—at the same time—an unforgettable testimony to the tenacity of the human spirit.

hosts: Lisa O in Durham

 

1000 Years of Joys and Sorrows: A Memoir, by Weiwei Ai

Hailed as "an eloquent and seemingly unsilenceable voice of freedom" by The New York Times, Ai Weiwei has written a sweeping memoir that presents a remarkable history of China over the last hundred years while also illuminating his artistic process.

Once an intimate of Mao Zedong and the nation's most celebrated poet, Ai Weiwei's father, Ai Qing, was branded a rightist during the Cultural Revolution, and he and his family were banished to a desolate place known as "Little Siberia," where Ai Qing was sentenced to hard labor cleaning public toilets. Ai Weiwei recounts his childhood in exile, and his difficult decision to leave his family to study art in America, where he befriended Allen Ginsberg and was inspired by Andy Warhol. With candor and wit, he details his return to China and his rise from artistic unknown to art world superstar and international human rights activist--and how his work has been shaped by living under a totalitarian regime.

July 21

host: Keeka in Durham

 

The House of Doors by Tan Twan Eng

The year is 1921. Lesley Hamlyn and her husband, Robert, a lawyer and war veteran, are living at Cassowary House on the Straits Settlement of Penang. When "Willie" Somerset Maugham, a famed writer and old friend of Robert's, arrives for an extended visit with his secretary Gerald, the pair threatens a rift that could alter more lives than one. 

 A mesmerizingly beautiful novel based on real events, The House of Doors traces the fault lines of race, gender, sexuality, and power under empire, and dives deep into the complicated nature of love and friendship in its shadow.

 

September 15

host: Jill G in Chapel Hill

 

No Ordinary Assignment: A Memoir, by Jane Ferguson

From award-winning journalist Jane Ferguson, an unflinching memoir of ambition and war—from The Troubles to the fall of Kabul. Jane Ferguson has covered nearly every war front and humanitarian crisis of our time. She reported from Yemen as protests grew into the Arab Spring; she secured rare access to rebel-held Syria, where foreign journalists were banned, to cover its civil war. When the Taliban claimed Kabul in 2021, she was one of the last Western journalists to remain at the airport as thousands of Afghans, including some of her colleagues, struggled to evacuate. Living with sectarian violence was nothing new to Ferguson.

As a child in Northern Ireland in the 1980s and '90s, The Troubles meant bomb threats and military checkpoints on the way to school were commonplace.Ferguson's bold debut chronicles her unlikely journey from bright, inquisitive child to intrepid war correspondent. With an open-hearted humanity we rarely see in conflict stories, No Ordinary Assignment  shows what it means to build an authentic career against the odds. 

November 17 

host: Eileen in Cary (?)

 

The Storyteller of Casablanca, by Fiona Valpy

Morocco, 1941. With France having fallen to Nazi occupation, twelve-year-old Josie has fled with her family to Casablanca, where they await safe passage to America. Life here is as intense as the sun, every sight, smell and sound overwhelming to the senses in a city filled with extraordinary characters. It's a world away from the trouble back home—and Josie loves it.

Seventy years later, another new arrival in the intoxicating port city, Zoe, is struggling—with her marriage, her baby daughter and her new life as an expat in an unfamiliar place. But when she discovers a small wooden box and a diary from the 1940s beneath the floorboards of her daughter's bedroom, Zoe enters the inner world of young Josie, who once looked out on the same view of the Atlantic Ocean, but who knew a very different Casablanca.