NCPCA Book Group
The NCPCA Book Group is an informal group of RPCVs who love to read international books and eat international food. We read and discuss books about the world, or by international authors.
Meetings are on the second Sunday (usually) of odd-numbered months, beginning at 5:30 pm and finishing up around 8:30pm. All local RPCVs are welcome!  Due to pandemic concerns, we met via Zoom in 2020 and for the first half of 2021.  We are so glad to go back to in-person gatherings, we hope, in 2022.  Stay tuned for details and hope for the return of our glorious potlucks!
Started in 1994, the NCPCA Book Group now has over 100 people on our email list for announcements of upcoming meetings.  We read a mix of fiction and non-fiction, with the only requirement being that the books are focused on developing nations, or connected to international issues. Each fall, everyone is invited to nominate books for the next year, and then everyone gets to vote on the finalists.  We try to achieve a balance between fiction and non-fiction, as well as geographic diversity, and to ensure that most of the books we choose are readily available in local libraries.
For more information about the Book Group, go to our Google Group page and request to join to our group, so you'll get announcements of all upcoming meetings, the RSVP info, and address. For more information, please contact Peggy Schaeffer or Ruth Heuer.  
Lists of all the books the book group has read (about 160 titles, since 1994) are available.
the list of Books by Title is here
the list of Books by Country (from Afghanistan to Zimbabwe!) is here
And there's now another book group: In early 2020 some members started another, smaller book group, to read books by Peace Corps authors. The Bonus Triangle Book Group meets in even-numbered months. See more details about this group here.
Dates & books for 2022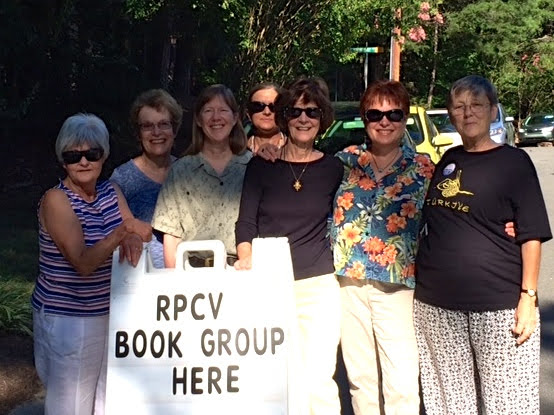 These 6 books were chosen by vote from over a dozen titles nominated by members. See below for book descriptions and the schedule for the year. Members of the book group will get announcements with details in advance of each meeting. 
Most of these books are available in the public libraries of Wake, Durham, and Chapel Hill.
Or purchase them for less than $10 from independent booksellers through Abe Books. 
January 23 (on Zoom)

  

Island of a Thousand Mirrors by Nayomi Munaweera

Before violence tore apart the tapestry of Sri Lanka and turned its pristine beaches red, there were two families. Yasodhara tells the story of her own Sinhala family, rich in love, with everything they could ask for. As a child in idyllic Colombo, Yasodhara's and her siblings' lives are shaped by social hierarchies, their parents' ambitions, teenage love and, subtly, the differences between the Tamil and Sinhala people—but this peace is shattered by the tragedies of war. Yasodhara's family escapes to Los Angeles. But Yasodhara's life has already become intertwined with a young Tamil girl's…

Saraswathie is living in the active war zone of Sri Lanka, and hopes to become a teacher. But her dreams for the future are abruptly stamped out when she is arrested by a group of Sinhala soldiers and pulled into the very heart of the conflict that she has tried so hard to avoid – a conflict that, eventually, will connect her and Yasodhara in unexpected ways.

Use this link to buy a copy from AbeBooks.

March 13

 

A Woman Is No Man, by Etaf Rum

In Brooklyn, eighteen-year-old Deya is starting to meet with suitors. Though she doesn't want to get married, her grandparents give her no choice. History is repeating itself: Deya's mother, Isra, also had no choice when she left Palestine as a teenager to marry Adam. Though Deya was raised to believe her parents died in a car accident, a secret note from a mysterious, yet familiar-looking woman makes Deya question everything she was told about her past. As the narrative alternates between the lives of Deya and Isra, she begins to understand the dark, complex secrets behind her community.

Use this link to buy a copy from AbeBooks.

 

American Dirt, by Jeanine Cummins

Lydia Quixano Pérez lives in the Mexican city of Acapulco. She runs a bookstore. She has a son, Luca, the love of her life, and a wonderful husband who is a journalist. And while there are cracks beginning to show in Acapulco because of the drug cartels, her life is, by and large, fairly comfortable.

Even though she knows they'll never sell, Lydia stocks some of her all-time favorite books in her store. And then one day a man enters the shop to browse and comes up to the register with a few books he would like to buy—two of them her favorites. Javier is erudite. He is charming. And, unbeknownst to Lydia, he is the jefe of the newest drug cartel that has gruesomely taken over the city. When Lydia's husband's tell-all profile of Javier is published, none of their lives will ever be the same.

Use this link to buy a copy from AbeBooks.

July 10

 

The Caliph's House: A Year in Casablanca, by Tahir Shah 

Inspired by the Moroccan vacations of his childhood, Tahir Shah dreamed of making a home in that astonishing country. At age thirty-six he got his chance. Investing what money he and his wife, Rachana, had, Tahir packed up his growing family and bought Dar Khalifa, a crumbling ruin of a mansion by the sea in Casablanca that once belonged to the city's caliph, or spiritual leader.

With its lush grounds, cool, secluded courtyards, and relaxed pace, life at Dar Khalifa seems sure to fulfill Tahir's fantasy–until he discovers that in many ways he is farther from home than he imagined. For in Morocco an empty house is thought to attract jinns, invisible spirits unique to the Islamic world. The ardent belief in their presence greatly hampers sleep and renovation plans, but that is just the beginning. From elaborate exorcism rituals involving sacrificial goats to dealing with gangster neighbors intent on stealing their property, the Shahs must cope with a new culture and all that comes with it.

Use this link to buy a copy from AbeBooks.

September 11

 

Factory Girls: From Village to City in a Changing China, by Leslie T. Chang

China has more than 114 million migrant workers, which represents the largest migration in human history. But while these workers, who leave their rural towns to find jobs in China's cities, are the driving force behind China's growing economy, little is known about their day-to-day lives or the sociological significance of this massive movement. In Factory Girls, Leslie T. Chang tells the story of these workers primarily through the lives of two young women whom she follows over the course of three years. Chang vividly portrays a world where you can lose your boyfriend and your friends with the loss of a cell phone; where lying about your age, your education, and your work experience is often a requisite for getting ahead; where a few computer or English lessons can catapult you into a completely different social class. Throughout this affecting portrait of migrant life, Chang also interweaves the story of her own family's migrations, within China and to the West, providing a historical frame of reference for her investigation.

Use this link to buy a copy from AbeBooks.

November 13

 

West with the Night, by Beryl Markham

Beryl Markham's life story is a true epic. Not only did she set records and break barriers as a pilot, she shattered societal expectations, threw herself into torrid love affairs, survived desperate crash landings—and chronicled everything. A contemporary of Karen Blixen (better known as Isak Dinesen, the author of Out of Africa), Markham left an enduring memoir that soars with astounding candor and shimmering insights.

A rebel from a young age, the British-born Markham was raised in Kenya's unforgiving farmlands. She trained as a bush pilot at a time when most Africans had never seen a plane. In 1936, she accepted the ultimate challenge: to fly solo across the Atlantic Ocean from east to west, a feat that fellow female aviator Amelia Earhart had completed in reverse just a few years before. Markham's successes and her failures—and her deep, lifelong love of the "soul of Africa"—are all told here with wrenching honesty and agile wit.

Use this link to buy a copy from AbeBooks.