Peace Prize
The North Carolina Peace Prize was established over 20 years ago to honor small North Carolina community-based, nonprofit groups that honor the values of the Peace Corps: helping people to help themselves and promoting peace and cross-cultural understanding. The prize consists of a financial contribution and recognition at a ceremony held in the spring in Raleigh, NC. Past winners are listed below and with additional details on our past winners page.
ComMotion Awarded 2023 North Carolina Peace Prize 
In a ceremony that began with speeches and ended with people dancing, the North Carolina Peace Corps Association (NCPCA) presented its annual North Carolina Peace Prize on Saturday afternoon to Community in Motion (ComMotion).
"They touch people's lives and help Americans learn about other countries -- in this case through dance," NCPCA Vice President Jennifer Chow, RPCV/Mongolia, said at the event at Pullen Memorial Baptist Church in Raleigh. "They exemplify the ideals that thousands of North Carolinians have pursued as Peace Corps Volunteers."
ComMotion was founded by two military veterans who organized Latin dance classes at a VFW hall in Cary to help fellow veterans dealing with war injuries, PTSD and other challenges. Since then, it has expanded to provide programs for cancer survivors, people living with dementia and others.
"I was injured in the military and I had cancer, so I was walking with a cane and I had lots of health problems," said Robin McCall, the organization's executive director. "I tried every kind of activity and physical therapy to get stronger. None of that was really doing it for me." After she took a short dance class, McCall was "completely hooked. It was amazing and really transformed my life. I wanted to give that to other people."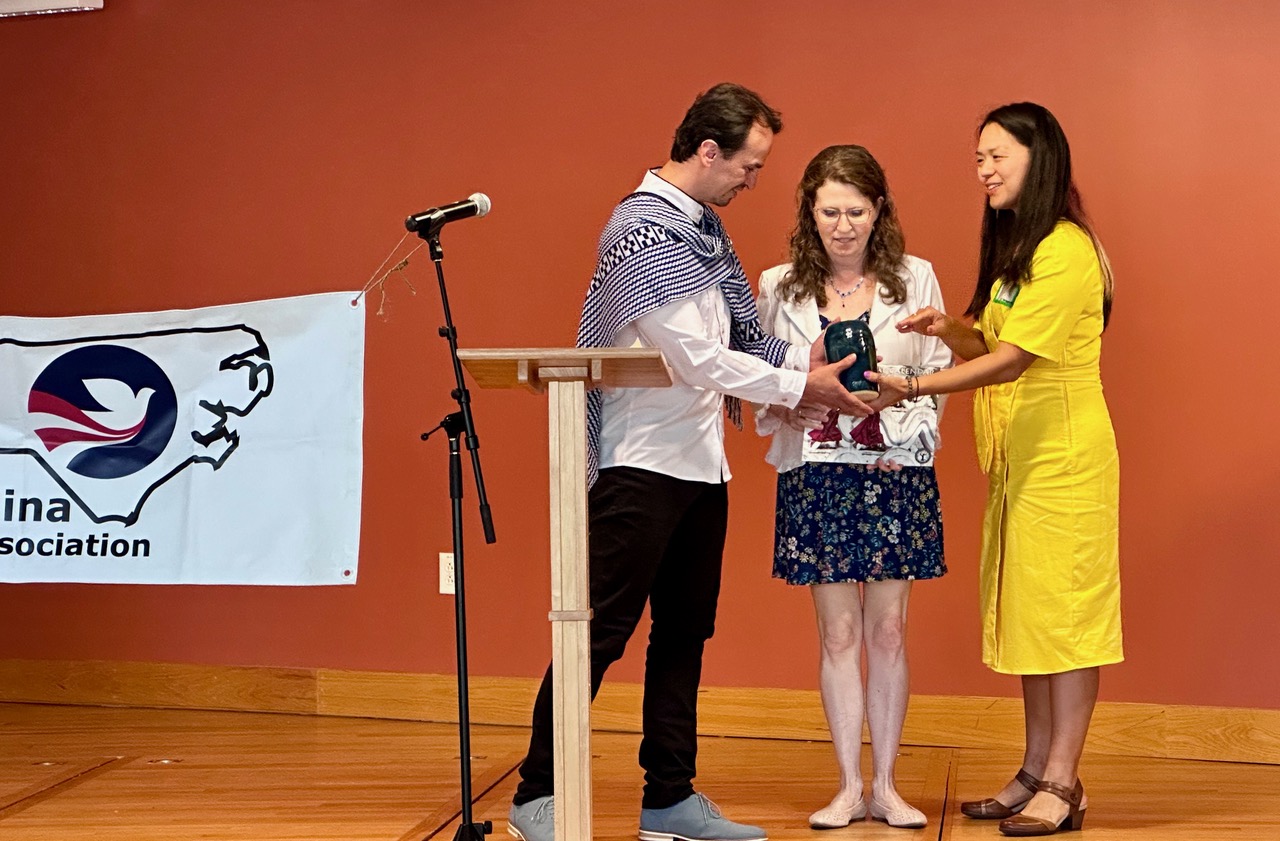 ComMotion artistic director Andre Avila, left, and executive director Robin McCall receive Peace Prize award from NCPCA Vice President Jennifer Chow.
She and her team have done just that, reaching large numbers of people across North Carolina. McCall said NCPCA's recognition meant a great deal. "Every meeting we've had for the past couple of weeks, we've told people, 'We're getting the North Carolina Peace Prize this year, just so you know.'"
"Receiving an award from you carries a heavy weight," said Andre Avila, ComMotion's artistic director. "[It represents] multiculturalism, representation and giving to the community. We love what we do. It comes from the heart. Thank you so much."
NCPCA's annual award honors a community-based, nonprofit organization whose work reflects the values of the Peace Corps. A group of NCPCA judges, all former Peace Corps Volunteers living in the Triangle, selects an applicant that exemplifies the Peace Corps values of public awareness, education, cross-cultural understanding and community service. Last year's winner was H.E.A.R.T.S. , a Durham nonprofit that assists adolescent parents. A full list of previous awardees is below.
"We're really excited to recognize the work of ComMotion," said Chow, who presented McCall and Avila with a Peace Corps calendar, a $2,000 check and a hand-thrown vase by Raleigh-based Monkeys' Uncle Potters and sculptor Steve Karloski. ComMotion provides in-person classes at schools, senior centers, hospitals and other venues, as well as live online programs via Zoom and on-demand videos. Its recent activities have ranged from a program about Latin rhythms at a Durham elementary school to a collaboration with the Dementia Alliance of North Carolina to teach caregivers about using movement techniques.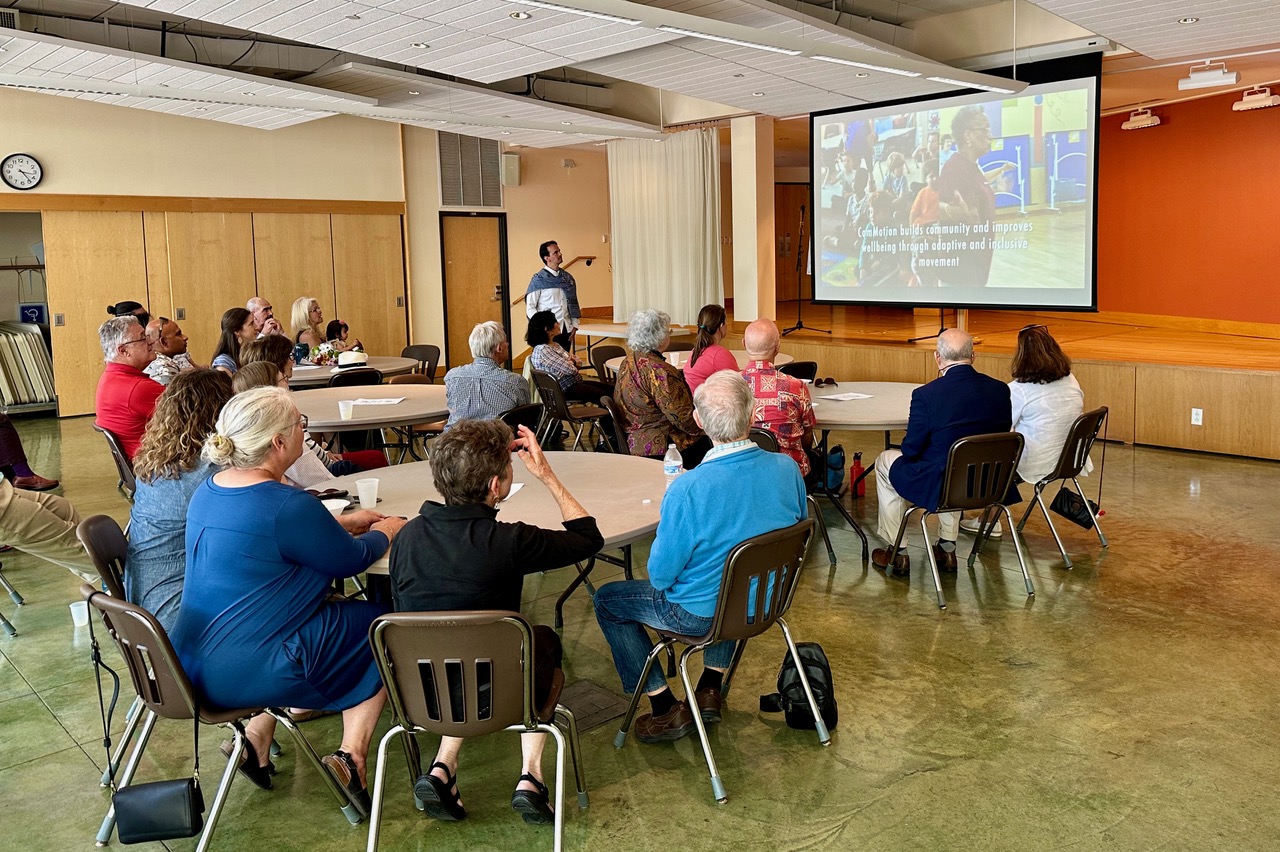 ComMotion showed a short video highlighting its programs for diverse groups.
Following the award presentation, McCall showed a short video of ComMotion providing programs for veterans, nursing home residents, children and others. Avila then coaxed everyone out of their seats to participate in a simple dance exercise.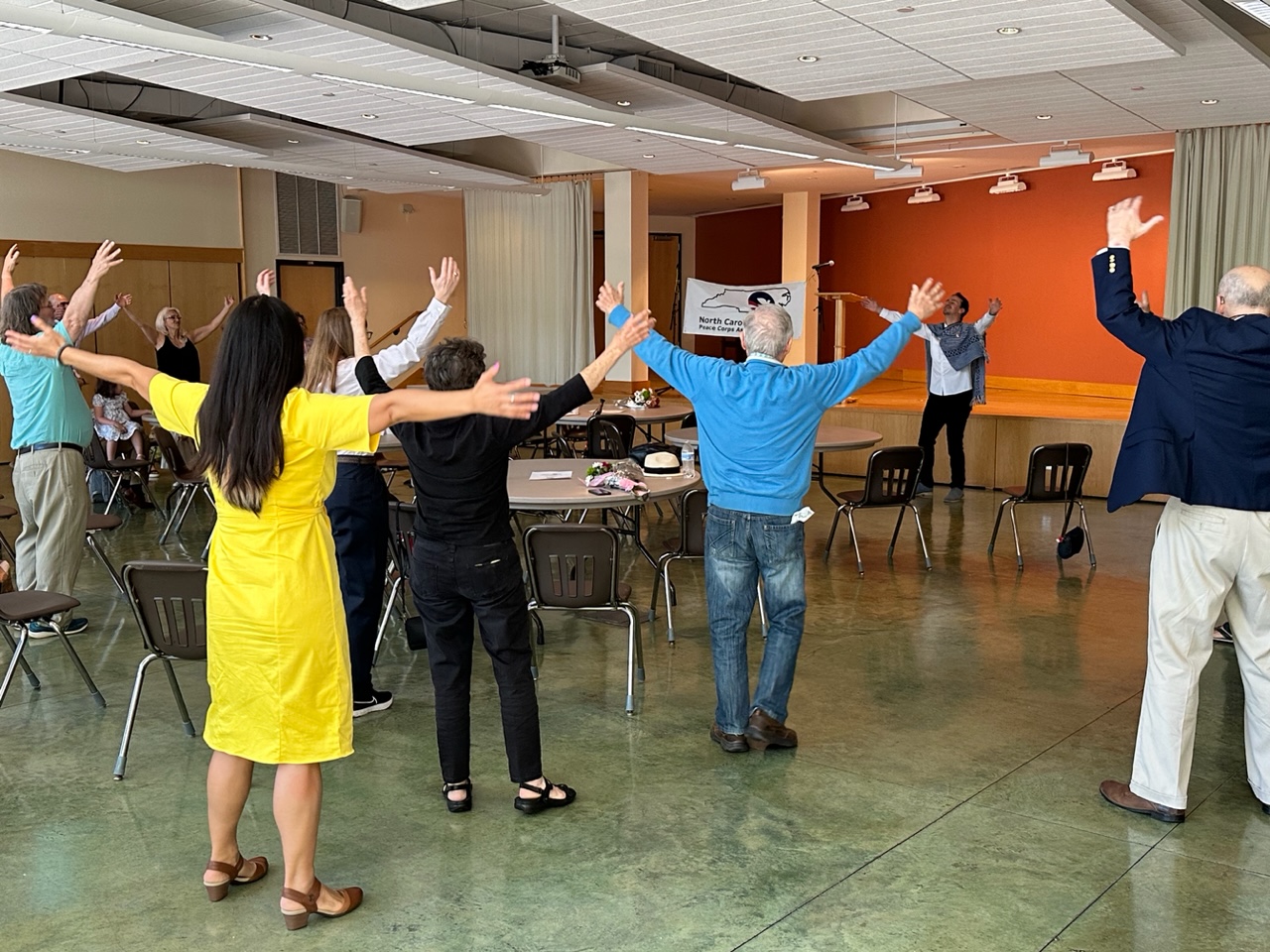 Avila got everyone moving and dancing at the end of the program.
More information about ComMotion is available on its website , its Facebook page and on YouTube . 
Article and photos by David Jarmul, RPCV Nepal & Moldova.
Past Winners:
In 1996, the Director of Latin American Affairs at the Carter Center, Bob Pastor, presented the first annual Peace Prize to Student Action with Farmworkers.
2009 –

Source Force

2007 – No award given